Back to top
Ecotrail Florence 2022
27 December 2021
Dear friends,
in 2021 we managed to organize Ecotrail Florence with great effort in such a difficult period.
We were hoping to organize it this year less stressfully but the latest news on the pandemic is not reassuring.
For the moment we can't guarantee the 2022 edition which was planned for 26 March next.
We'll be posting updates further on, on the race website and on our social media channels.
In the meanwhile we wish you a joyful 2022.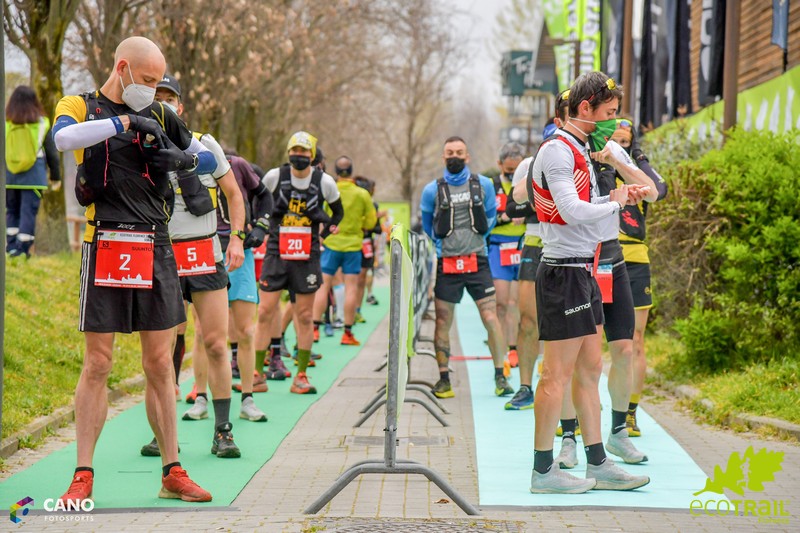 Ecotrail Florence 2021
28 March 2021
EcotrailFlorence 2021 race photos are online on CANOFOTOSPORTS website >>
27 March 2021
EcotrailFlorence 2021 results are online on TDS website >>
20 March 2021
Registrations to EcoTrail Florence 2021 are open here >>
19 March 2021
Hello everyone,
Tuscany has been designated as an "orange area" all next week, therefore, unless last minute restrictions are put in place, we can CONFIRM that Ecotrail Florence is taking place on Saturday 27 March.
Tomorrow 20th of March at 12 noon registration for all three races will begin.
To participate a valid medical certificate for competitive sports and a club membership card are obligatory.
The links for registration, as well as the rules, routes and all other information will be available from tomorrow at www.ecotrailflorence.com.
Please read ALL the race rules before registering: only with the full collaboration of athletes and organisers can we organise a safe race.
Athletes already registered last year will get an email with a link where they can upload their valid medical certificate for competitive sports and club membership card BY THURSDAY 25 MARCH.
Residents in red-designated areas can also participate but must fill out a form which will be available for download from out site in the next few days.
Thank you all for you collaboration.
8 March 2021
REGISTRATION OPENS ON 20 MARCH
Hello,
first we'd like to remind you that the current Ecotrail Florence is CONFIRMED for Saturday 27 March, and second, we have decided to postpone registration to 20 March, the day in which we'll know for certain if Tuscany will continue to be designated as an orange area thus enabling the race to take place.
This decision was taken so that if the race is cancelled, registered runners will not lose the bank charges that we are obliged to deduct from refunds.
The official race rules including the appendix regarding the anti-COVID regulations on how to behave before, during and after the races will shortly be published on the www.ecotrailflorence.com site.
Remember, when you are registering it is OBLIGATORY to upload a valid medical certificate for competitive sports and your club membership card. If these documents are not uploaded, registration will be denied and the fees paid will be reimbursed less the bank charges.  
Registration closes on Thursday 25 March or when the maximum number of runners has been reached.
We apologise for the change in programme but as you can well understand the situation is continuously evolving and we are doing our utmost to organise Ecotrail Florence in maximum safety and without wasting money.
See you soon!
5 March 2021
Florence municipal administration has just confirmed that we are authorised to proceed with the organisation of Ecotrail Florence on Saturday 27 March. The authorisation will be revoked only if Tuscany is designated a "red area" on the day of the race, in the event of which the race will be cancelled.
Athletes registered in the 2020 edition who did not request a refund last March are automatically registered in the 2021 edition. On Monday registration will be open for the few places available in the three different races; if the race is cancelled, registration will be postponed to 2022.
To accommodate all the issues arising from the new anti-COVID regulations, we have been obliged to make a few changes:
 - the starting and finishing points for all three races is now at Tuscany Hall, via F. De André, Firenze Sud (it has moved from Piazzale Michelangelo);
 - the 18km race will also start and finish at Tuscany Hall and has a modified route of the same distance;
 - the 80km race is now 65km with 2,200 metres of elevation gain;
 - the 43km race has also been modified but the distance and elevation gain remain unchanged.
All other information and rules to follow before, during and after the race will be published in the race rules available shortly on the website: www.ecotrailforence.com
See you soon!
3 March 2021
Yesterday, 2 March 2021,  the new Prime Ministerial Decree, which is valid from 6 March to 6 April, was published. It confirms the possibility of organising sporting events considered of national importance by the Italian National Olympic Committee, such as the EcoTrail Florence. However, the same Decree explicitly prohibits sporting events in the so-called 'red' regions/areas.
The province of Florence is currently designated as a 'yellow area' thus we are going ahead with the organisation of the race which will naturally respect all the rules and protocols put in place for COVID. Tomorrow we have a meeting with local institutions for official confirmation and, if all goes well, race registration will begin.
The situation is in constant flux and we hope that it can only improve.
We will keep you informed using our social media channels and our website and we assure you that we are doing the very best we can!
Thank you to everyone for your patience and see you soon.
9 February 2021
The Ecotrail Florence, scheduled for Saturday 27 March 2021, is included among the CONI events of national interest.
The race is currently confirmed and registration will be reopened shortly; all information will be soon available on our website and social channels.
We are waiting for you in Florence!